Visual Dictionary Blog (EFL Learning)
(From wikipedia)
In US American English, a gym bag or carryall is a large bag made of cloth or leather typically with a rectangular base and a zippered opening at the top. Two handles enable the bag to be carried, and a (usually removable) strap lets the user support the bag on the shoulders.
In British English, a holdall (or occasionally hold-all) may be a similar bag but may often have wheels and possibly a telescopic handle. The term covers a wide variety of types of bag.
Also travel bags!, multi-purpose bags!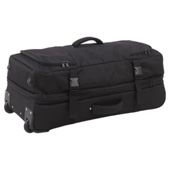 wheeled holdall